On Tuesday 31st July 2019, the President of the Nigerian Optometric Association, Dr Ozy Okonokhua, was a Resource Person/Speaker at the Conference of the Institute of Health Insurance and Managed Care of Nigeria.
Presenting a paper, Stakeholder Participation in Health Insurance: Nigerian Optometric Association, the NOA President exposed the audience to key issues in eye health and vision care, and the role of Optometry in bringing quality care to the populace under the health insurance system, challenging all stakeholders to live up to their roles in the process.
Dr Okonokhua was later invested as a Fellow of the Institute, adding another feather to his already overflowing cap.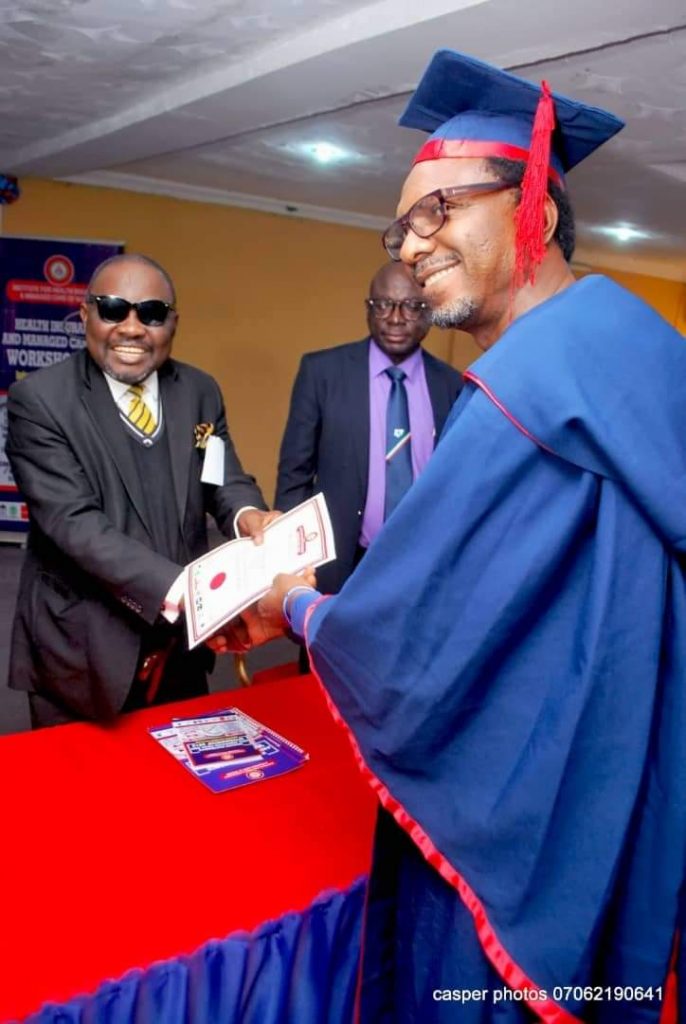 Other members of the Fellows of the Nigerian Optometric Association are
Professor P.O. Ogbuehi (late)
Professor D.D. D. Sheni
Dr Jokotoye Babalola (late)
Dr Gideon O.U. Efiong (late)
Professor Bernaditha S. Mencias
Mr Shuaibu O. Aliyu(late)
Dr Alfred R. Isijola
Dr W.A.O Uko
Dr Ronald Eyime(late)
Mrs V.A Balogun
Mr K. Odeinde
Dr F.E. Kio
Professor Uche Ikonne
Dr Efe Odjimogho
Dr Goodluck Achoja (late)
Dr T.A. Kuyinu (late)
HH Esinjo Dr Eric J. Bassey
Dr Emmanuel Esenwah
Dr Jones Efienemokwu
Professor J.N.B. Nnadozie
Dr Sam Ntem
Dr Nkem Okoroafor
Dr Joe Owie
Dr Irene Bassey-Duke (late)
Professor Frank Iwuagwu
Dr Victor Osaje
Dr. Solomon Idakula
Dr Uduak Udom(late)
Dr Monica Obaedo
Dr Ngozi Musa
Dr Greg Ozoya (late)
Dr Geff Ojinika
Dr Dongo John
Professor Canice Asonye
Professor Ralph Akpalaba
Dr Nwakuso Aruotu
Dr Adedayo Olympio
Dr Barbie Ejukonemu
Professor Ebele Uzodike
Professor Okechi Amaechi
Dr Ranmilowo Agagu
Dr Ikechukwu Nwakuche
Mrs Ezi Omamgbe Anyaegbu
Dr Cecil Nwafor
Dr Okechukwu Aloysius Anyanwu
Dr Anne Ebri
Dr Ejitu Isong
Dr Mary Osazuwa
Dr (Mrs) S.E. Odjimogho
Dr Onwusoro Ihemelandu
Dr Ozy Okonokhua
Dr Felix Oguamah
Dr Anthony Anyameluna
Dr Franca Awurum
Dr Oloruntofehinti Isoken (Late)
Dr Anthony Uchenna Megwas
Dr Claire Esenwah
Dr Isaac Omo-Owho Ejebe
Dr Christopher Okechukwu Timothy
Dr Eniola Ajayi
Dr Mrs.Ijeoma Agatha Mouka
Dr Gilbert Obi Enechi
Dr Chidi Ezetoha
Dr Ime Etuk
Dr Ikechukwu Nwabeke
Dr Ngozi Akpokene
Dr Japh Azubuine
Dr Damian Chinedu Echendu
Dr Anderson Chimeziri
Dr Ijeoma Ugboaku Alozie
Dr Nwakaego Ikoro
Dr Kenneth Giwa-Amu
Dr Sonny Ekemeigbale Egbeahie
Dr Nkiru Chinwe Nwachukwu
Professor Matthew Olarenwaju Oriowo
Dr Bernadine Ekpenyong
Dr Adetunde Anifaleye
Dr Emmanuel Braimoh
Dr Adesuwa Ogli
Dr Ogechi Nwokedi
Asso. Prof. G.C. Agu
Dr Helen Lucky-Udi
Dr Ngozi Nwanekezie
Dr Paschal Obi
Prof. Faustina Idu
Dr Igbo Okafor
Dr Norris Ovili
Dr Felix Olafisoye